We are Manufacturer, Supplier, Exporter of Touch Screen Data Loggers DL 35 and our set up is situated in Pune, Maharashtra, India.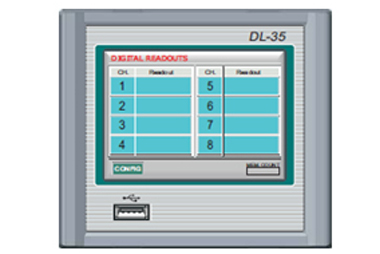 Technical Specifications
Display Specifications
General :

Input Resolution : 0.1% of full scale
Input Channels : 8 or 16 channel direct universal input
Measurement Rate : 4 channels per second on all direct input channels
Internal Temperature Reference : 0 to 600C

Analog Inputs :

DC Voltage : 0 - 5 Vdcm with accuracy 0.1%.
DC Current : 4-20mA, 0-20mA.
Accuracy : +/- 0.1% with built in shunt.
Thermocouple Resolution : 10C.
Reference junction compensation : Yes.
RTD Base Accuracy : 0.2% or 0.5°C ( 1 °F ).
Resolution : 0.1°C 2 or 3 wire connection. Cable compensation to +50 ohm. Open and short circuit detection.

Recording :

Recording Rates : User programmable from 1 sample per second to 1 sample every 10 hours.
Data Format : .Txt file ; can be easily openable by variety of softwares.
Data Storage Capacity : 512 kb internal memory and this data can be Easily moved to memory stick connected to USB Port.
Data Scaling and statistics : By PC Software.

Type :
Color Active Matrix TFT Liquid Crystal Display
Size :
3.5 inch diagonal, Resolution: 320 (W) x 240 (H) pixels
Interface :
Resistive analog touch screen control
Display Modes :
Graphic trending (horizontal), Bar Graphs( Vertical ) Digital Readout (Single or multi-channel), Alarms and event log settable.
Display Windows :
Time/Date, Graphics ( bars, large digital, graph ) Disk Status, System Status, Menu Button Bar, Alarms / events.
Communications
Network :
10 / 100 Base T Ethernet standard ( Optional ). Modbus over Ethernet server
Serial :
Isolated RS485/RS232 for PC Interface.
Parallel Port :
Isolated Dot Matrix Printer port Interface.
USB Port :
Isolated USB 2.0 host for connecting Memory stick, USB hard disk.
Power
Requirements :
100 to 240 Vac, 50/60Hz. 20 VA max.
Power Fail Protection :
Programmed parameters stored in non - volatile memory. Clock battery backed. Clock battery to be replaced once in 5 Years , one 3V Lithium cell easily replaceable.

Transmitter Power supply Output:
Optional isolated 24Vdc @ 120mA output
Input / Output
Relay Output :
2 relay outputs, ( normally open, Close & pole contacts ) rated at 30 Vdc @ 0.5A or 230Vac @ 5Amp Max.
Additional relay outputs
( optional ) :
12 Relay card; separate DIN rail Mounting Card interfaced with RS - 232 interface with this unit.
Safety and Environmental
Operating Range :
0 °C to 50 °C, 10% to 80% RH non - condensing
Dimension :
Bezel dimension -110 (W) x 101 (H) x 16mm above panel.
Unit dimension - 110 x 101 x 150 mm depth.
Panel Cutout - 92 x 92 mm
Protection :
IP65 for front bezel when mounted in panel.
Safety :
Meets the requirements of EN61010-1 when installed in accordance with the instructions in the manual.
EMC :
Meets the requirements of En61326 and CE directive 89/336/EEC.
Weight :
Approximately 1.5 kg.
8 or 16 universal input ( RTD. Thermocouple, 0-5Vdc, 0 - 20mA or 4-20 mA input signals. )
Onboard 32000 reading per channel storage.
Parallel Port
Individual HI / LO alarm with 2 relay output
Additional relay outputs with optional Relay card
Networkable using Ethernet Port ( optional )
Free PC Based Data Acquisition software
21 CFR Part 11 ( optional )
Front end IP65 protection
3.5 inch TFT with Touch Screen Control
Onboard USB Port ( Memory stick )
Easy to configure analog input type with front end TFT touchscreen.
Logged data is secured as storage media is inside the unit.
Helps to connect any type of dot matrix printer.
Relay output for control or activating external alarms.
Individual Alarm relay ( HI / LO ) can be provided for all 16 channels.
Data accessible via LAN.
Not necessary to pay extra cost.
Logged data is secured and can not be manipulated by user.
Panel mounting enclosure which can sustain in harsh environment.
Easy to use icon menu for setting user parameters with touch interface.
Logged data can be downloaded to Memory stick and transfer to PC.