We are Supplier, Exporter of Single Use Portable Data Loggers Rotronic TL - CC1 - 10 and our set up is situated in Pune, Maharashtra, India.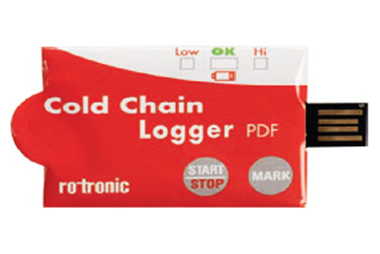 Technical Specifications
Type of logger
Single use
Parameter
Temperature
Temperature sensor
NTC thermistor
Accuracy
±0.5 °C (-30...70 °C)
Resolution
0.1 °C
Range of application (temperature)
-30...70 °C / -22...158 °F
Range of application (humidity)
< 80 (3 / 0 R H
Protection
IP65 (when placed in plastic bag)
Weight
Approx. 10 g
Battery
CR2032 (not replaceable)
Dimensions without bag
80(L) x 43(W) x 2.5(D) mm
Dimensions with bag
105(L) x 55(W) x 2.5(D) mm
Logging interval
0.5/5/10/30/60/90/120 min
Start delay
0.5/5/10/30/60/90/120 min
Alarm ranges
-20...-10 °C, -10...0 °C, 2...8 °C, 0...15 °C, 0...25 °C, 15...25 °, freely selectable values
Alarm type
Deactivated, single or cumulative
Storage period
12 months
Storage capacity
8192 data points
MARK function
Marking of up to 8 points during transport
Operation
START/STOP button, MARK button
LED indicators
LED «Low» flashes red
when value below alarm point
LED «Hi» flashes red
when value above alarm point
LED <, OK» flashes green during data logging
LED ((Battery» flashes red when low battery
Communication
USB 2.0 port, type A
Operating system
Windows
Conformity
GxP, EN 12830, FDA 21 CFR Part 11 and GAMP5
Freely confi gurable by user - without software installation
Clear alarm identifi cation
Automatic PDF report generation
Everything in one logger: confi guration fi le, PDF report, instruction manual and calibration certifi cate
High storage capacity: 8,000 data point memory
Manipulation - proof
Conforms to GxP, EN 12830 and FDA 21 CFR Part 11 / GAMP 5
Monitoring of the cold chain during transport of sensitive freight such as pharmaceuticals, foods and technical products. The logger is designed for single use only.