We are Manufacturer, Supplier, Exporter of Touch Screen Data Loggers DL 080 and our set up is situated in Pune, Maharashtra, India.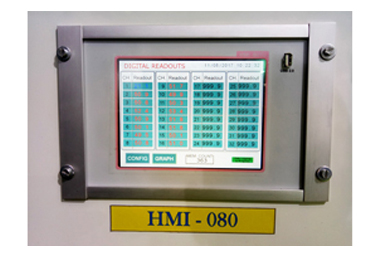 Technical Specifications
No. of analogue channels

8, 16, 24 & 32 inputs models

Universal Input
Yes

Voltage ranges
0-5 Vdc Single ended.
Current ranges
0-20mA, 4-20mA.
Thermocouple Ranges; Differential and Single Ended
0 to 1200°C - J type
0 to 1372°C - K type
0 to 1300°C - N type
0 to 1768°C - R type
0 to 1768°C - S type
0 to 400°C - T type
Pt100 / 1000, 2-wire, 3-wire
-200 to 300°C
Internal reference temperature
-50 to 150°C
Alarm Outputs
Alarming signals to Relay board (optional) via Rs232 serial port.
A / D Resolution
12 bit successive approximation.
Accuracy
0.1% FSD of range.
Clock Resolution / Accuracy
1s /10ppm Normal mode- each input sampled at a maximum rate of 1 reading per second.
Historical trends
Yes, on Display as well in PC software for programmed duration.
Data Scaling
Yes
Data Statistics
Yes from within Data acquisition PC software
Memory Internal
4 M bits (1 to 112000 readings)

Display
7.5 inch multicolor TFT graphical display with CCFL / LED backlit. Resolution 640 X 480 pixels.
Internal Battery for storage
One 3V Lithium cell, easily replaceable.
Battery life
Up to 5 years.
External Power required
24Vdc 2 Amp SMPS.
Sensor Power Output
5V at 50mA
Networking
10M / 100M Ethemet port, Device IP settable
USB Port
USB 2.0 Host, can connect external pen drive.
Serial Communication Port
RS - 232 or RS -485 Factory setted
PC Setup
Yes, with dedicated data acquistion software.

Front Panel Setup
Via 7 integral keys, All essential functionality avaliable via key pad e.g. RTC set print time set, program input type, memory store copy etc
Stored Setup
6
Operating temperature
-20 to 55°C
Dimensions
W - 300 x H - 195 x D-115mm, Weight 0.7kg
Panel Output
W - 257 x H - 175 mm
The DL 080 is versatile general purpose universal input data logger with 8, 16 up to 32 analog inputs channels to measure process input signals from temperature sensors, humidity sensors, 0 - 5 Vdc or 4 - 20 mA signals from pressure sensors. The logging is automatically triggered at pre-programmed time intervals. A variety of communication ports are included like RS - 232 or RS - 485, USB 2.0 and 10 / 100M Ethernet port, Parallel or Printer port. This enables data transfer from logger to any external devices. It is a small, truly portable logger which also suitable for bench based or panel mounted installations. Easily programmed via the seven integral push buttons and large graphical TFT display and with basic accuracy of 0.1% FSD. The DL 080 is able to fulfil many routine data logging needs, including more demanding applications requiring up to 8 readings per second per 8 channel.
Small truly portable data logger 8 to 32 universal analog inputs ( RTD, Thermocouples, 0-5Vdc, 0 - 20mA or 4 - 20mA signal inputs )
Individual HI / LO Alarm set points shown with color toggling on display.
Alarm relay outputs with optional DIN rail mounting relay module.
Multicolor 8.0 Inch Graphical TFT Display.
Resolution 640x480 pixels.
0.1% accuracy.
Non volatile storage up to 7000 readings per channel.
Supplied with PC based Data acquisition software